In this time where monotony is taking over our relationship, personal, family and love, we must find a plan to get out of the routine with our loved ones. Still don't know what to do when all this is over? San Agustín municipality, located south of Huila, is your future romantic destination. With a list of archaeological sites classified by UNESCO, adventures with adrenaline, charming hotels and fine dining, we offer you the best romantic getaway in San Agustín.
Nature, culture and adrenaline
Places privileged by nature
San Agustín – Isnos are privileged places due to the dazzling nature of the Colombian Andes In addition to the surprising scenarios of the Colombian Massif with its exuberant vegetation. Both municipalities have viewpoints to enjoy theIn view of the imposing Magdalena River and the walls of the canyon that form between the municipalities, they will leave you fascinated and fill you with the mystical energy of the place.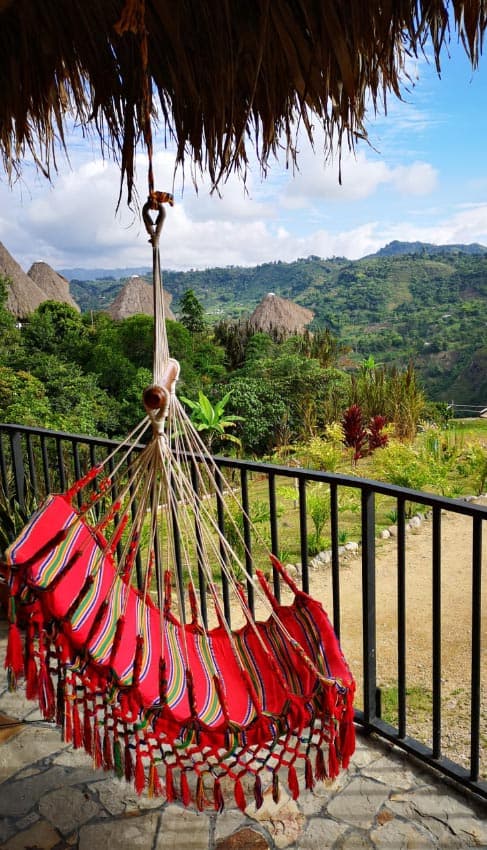 San Agustín for lovers of history and archeology
The parks of San Agustín – Isnos were declared by the unesco as a World Heritage Site in 1995. It is a great attraction for lovers of history and archeology. Visiting these places, one manages to disconnect from everyday life and immerse oneself in the mystical atmosphere of the statues, traveling to the past where our ancestors left their lives in stone.


San Agustin, a land of adventure and adrenaline
San Agustin offers a wide variety of outdoor activities for amazing adventures. Sometimes you have to add adrenaline to romance, right? In San Agustin, you can carry out activities such as rafting, canopy, torrentism or walks to the best waterfalls in this beautiful place. The tour Extreme adrenaline offers some alternatives to cross the imposing Magdalena canyon, through adventure activities. Adrenaline unites and fills the heart with a little fear and strengthens the bonds between the couple.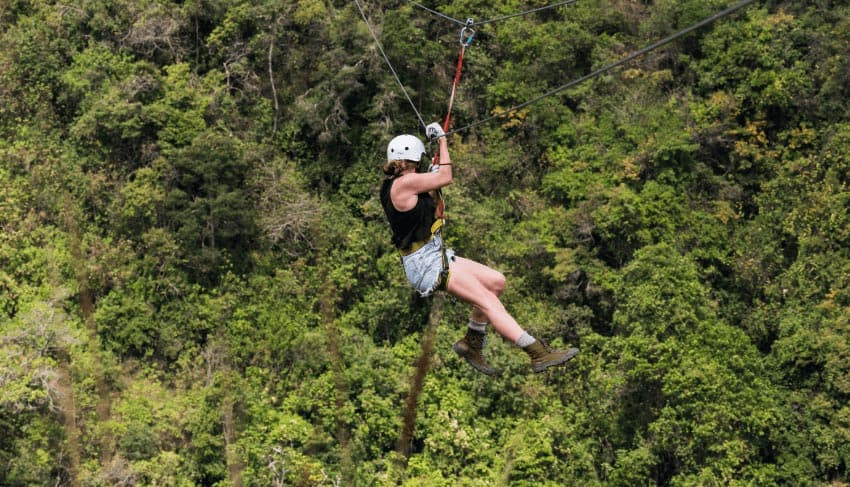 A little fear + a little strength = a lot of love
Masaya, between nature and tranquility
Masaya San Agustin will immerse you in the best landscape of San Agustín
Masaya Hostel San Agustin It is a beautiful place that is located a few kilometers from the urban area of the municipality of San Agustín in the Vereda el Tablón. The hotel is located right on the edge of the Magdalena canyon and extends over more than 3 hectares of pure nature. From its ecological cabins in local guadua to relax and connect with nature to its impressive maloca where the reception, bar, restaurant, social Jacuzzi and much more are located, this hotel offers great service as well as incredible infrastructures to feel at home. House.
The hotel also has a coffee plantation, an organic orchard, a farm, a creek with a place next to it for a campfire, a viewpoint with a giant mesh on the edge of the canyon and ecological trails to discover the local vegetation with a great variety of flowers. .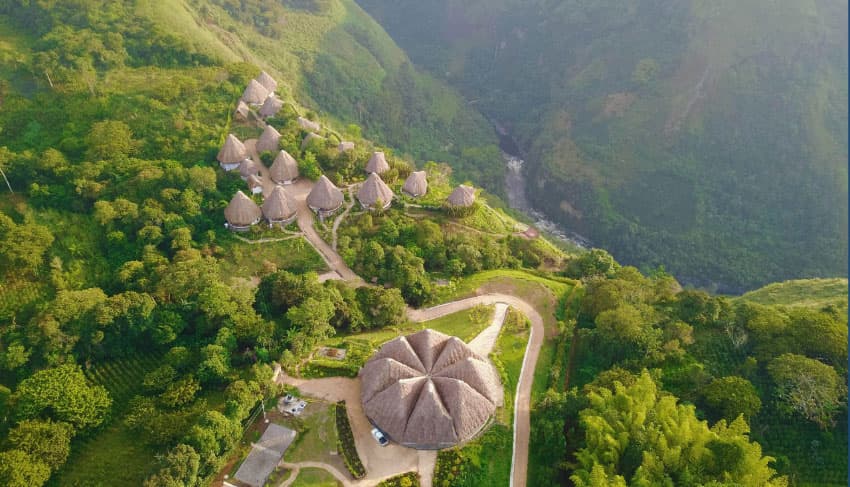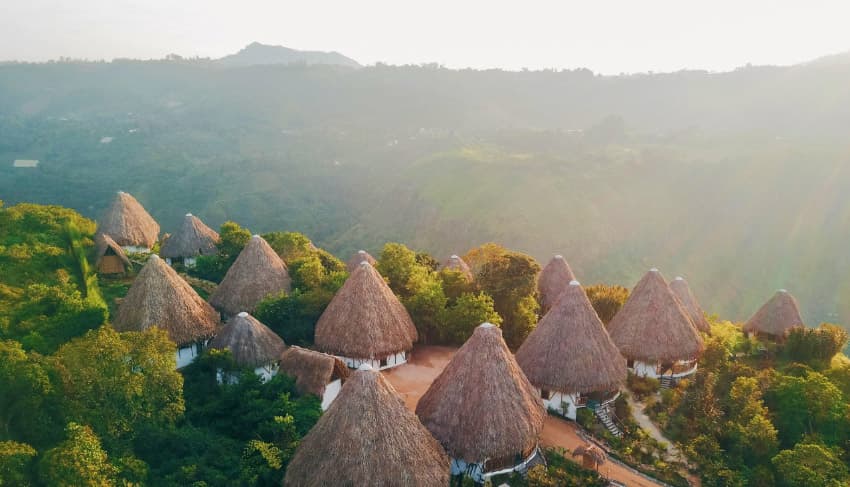 S cabinsuite: an incomparable romantic plan.
The cabin suite is the best option that Masaya offers. There are only 4 cabins of this type that are located on the edge of the canyon and have a 180 degree view of the Magdalena and the waterfalls that border the canyon. On the ground floor, the suite has a beautiful living room, an incredible bathroom with a large shower with direct access to the terrace where you can enjoy the beautiful view from... a private outdoor Jacuzzi. (if there is something more romantic than that? I don't think so). On the top floor, you will find a beautiful room with a king-size bed and a traditional guadua architecture less than 5 meters high. It also has a balcony to enjoy a beautiful sunrise over the Magdalena canyon with the song of the birds of the region. Enjoy your romantic getaway in San Agustín with Masaya without worrying about anything!
Note: In addition, the hotel offers romantic packages that include dinner in 3 steps, glasses of wine and romantic decoration in the room to make a greater impression on your partner.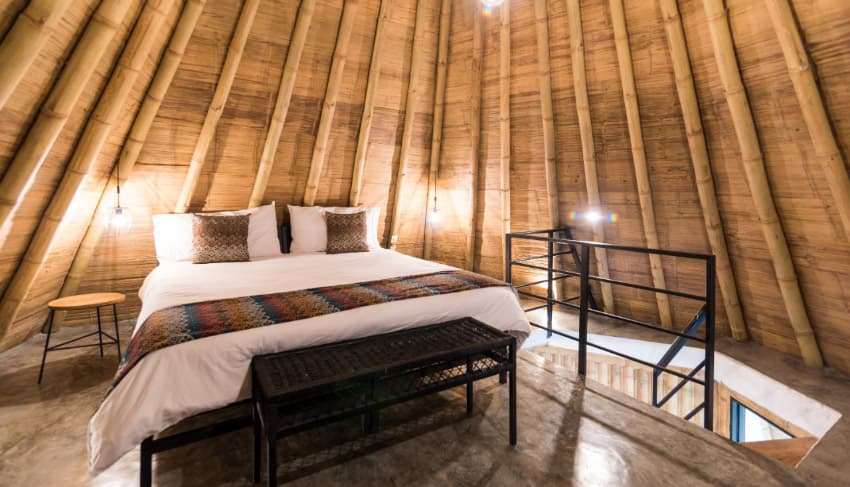 San Agustín, a charming town
To finish, we propose a brief tour of the municipality of San Agustín with its white and green facades and balconies that recall the flag of this municipality and its main church that was built around the 1790s.

Walk among cafes and crafts
You cannot leave San Agustín without having had a delicious coffee in town. In the traditional streets, andyou will find the coffee shop, Chapara. In addition to its exquisite coffee, its main attraction is the terrace that allows you to appreciate the last rays of the sun falling on the mountains. In Simón Bolívar square, there is Macizo Coffee, a café that has nothing to envy to the cafés of Bogotá in terms of its style, furniture and its extensive menu. If you want a more intimate option and don't mind going off the rails a bit, we recommend Bici Café. A rustic cafe with a bohemian atmosphere where you can enjoy a wonderful origin coffee prepared by Nathanael and Dasheira. This commercial street is full of handicrafts, so don't hesitate to take a nice souvenir of your stay in San Agustín.

There is no romantic getaway without candlelight dinner…
A romantic dinner was missing to crown this walk… We definitely recommend the restaurant tall peppermint. Is Un haute cuisine restaurant that highlights local ingredients from its beef tenderloin in different sauces and its famous garlic trout. It offers a very cozy atmosphere for couples… They will also be able to visit the restaurants of The lighthouse and Il Pastaio.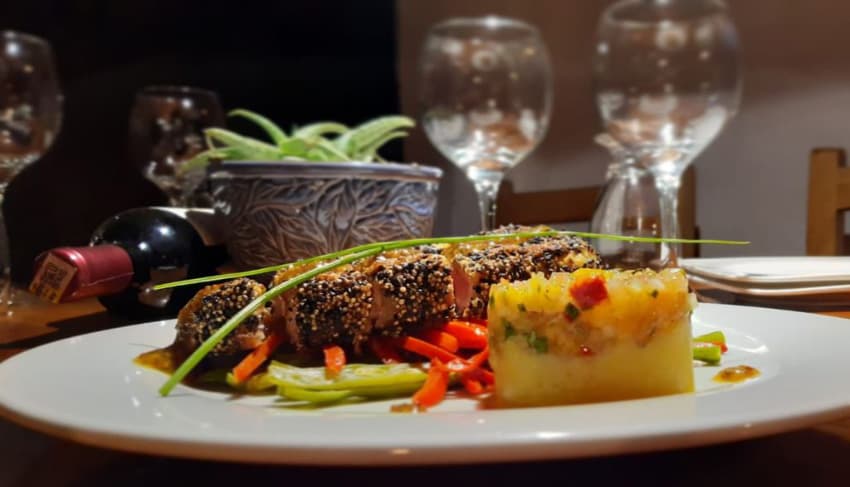 In San Agustin, there is always a plan to take with your partner, break monotany and connect with nature and Colombian traditions. A new corner to discover that this beautiful country gives us. On Colombia we have it all! 
---
Contributor: Lorraine Anacona
Employee Masaya Hostels, San Agustín receptionist;
Mommy of Sofis and Michael;
Adventurer in her spare time.
.
---
Offer a Masaya gift card! #adoptahostel
[/vc_column_text][/vc_column][/vc_row]